For many years, tumble dryers have been one of the most popular appliances. When it comes down to it, these machines speed up the drying process of fabrics. On top of that, they can perform this task under any weather condition.
Although all brands of tumble dryers have great features, they work better if used with the right settings. But if a user is not sure of the best adjustments to choose from, tweaking their tumble dryers might become a nightmare.
Do you own a tumble dryer? Are you confused about the best settings for enhancing its features? If yes, go through our article and find the best settings that should suit your brand of tumble dryer.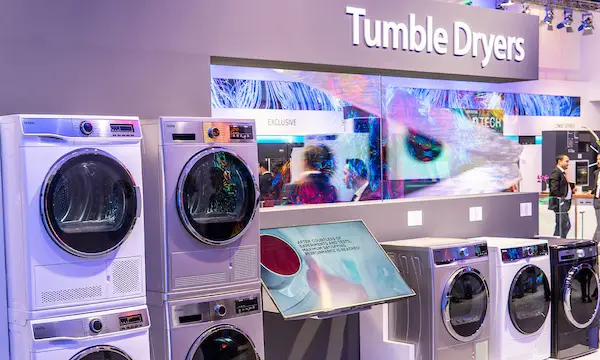 Tumble Dryer Settings Explained in Detail
Here are some of the ideal settings for getting the perfect dry from various brands of tumble dryers. But before using our settings, we suggest that you check the manual that came with your dryer for extra advice. Now let's get started.
A. Samsung Tumble Dryer Settings
If you use a Samsung dryer, here are some of the settings that are ideal for various fabrics:
Delicate: This setting is perfect for drying items that can't handle much heat. To prevent any damage, the Delicate setting uses low temperatures to remove moisture from the fabric.
Active Wear: Are you looking for the best Samsung dryer settings for your workout clothes or sports jerseys? Well, choose the Activewear setting and try to stay within the load limit of 4 lbs.
Eco Normal: If you want to save energy in your home, try the Eco Normal setting. Although it uses less energy than most modes, it can also remove moisture from different articles.
Bedding PLUS Bedding: Beddings such as blankets, duvets, or sheets might be difficult to dry. But if you choose this setting for such items, it will perfectly remove the moisture from such fabrics.
Heavy Duty: You can also use the Samsung Dryer for tough materials such as denim or even work clothes. As expected, this setting uses a higher amount of heat than most Samsung dryers. But as expected, it gets the job done within a reasonable time.
Normal: This setting is ideal for everyday fabrics such as your cotton or linen underwear. It is also great for removing moisture from colored or white clothing.
Towels: Do you have towels that you need to dry quickly with the Samsung Dryer? Well, place these items into the dryer and leave them on the Towel mode.
Jeans: Asides from the Heavy Duty setting,  you can also use the Jeans mode for your denim clothing. For a perfectly dry, it would help if you turned out the pair inside out.
Sanitize: This mode offers a high drying temperature for killing bacteria. To keep your clothing safe from damage, use it for colorfast materials that are heavily soiled.
Wool: Does your wet laundry consist of woolen items? Then select the Wool mode as it works well for such items. For the best results, make sure the clothing can withstand tumble drying and machine washing.
B. LG Tumble Dryer Settings
Here are some of the settings that can be found on LG Tumble dryers:
Air Dry: If you want to dry items such as rubber gloves or plastic clothing, you can choose the Air Dry setting. Although this mode does not use heat, the items should be dry within 30 minutes.
Anti Bacterial: Designed for tough fabrics, this setting helps reduce bacteria by using high temperatures. With this setting, the materials should be dried within a short period.
Bedding: Are you looking for the right settings for your comforters, blankets, and sheets? If yes, then you should choose this setting on your LG dryer. As you use the Bedding cycle, you can expect the articles to be dried within a short while.
Delicates: Light items such as lingerie, pillows and light clothing do well with the delicate setting. As this cycle uses a low temperature, there is no need to worry about damage. If you choose this setting, your fabric should be dried within 28 minutes.
Heavy Duty: Looking for an easy way to dry work clothes or denim with your LG dryer? Then place the items in the machine and choose the Heavy Duty set. Thanks to the high temperature, the clothing should be ready within less than an hour.
Jumbo Dry: If your LG dryer features the Jumbo Dry setting, then you can use the mode for heavy bedding. Even if uses medium heat, it should get the clothes dried within a short period.
Steam Sanitary: You can use your LG dryer to remove moisture from your kids' clothes or bedding. To get the best results, use the Steam Sanitary cycle
Steam Fresh: Soft shirts, trousers, and other delicate clothing are ideal for the Steam Fresh cycle. With this setting, the machine will offer medium-high temperatures.
Small Load: Designed for towel-like fabrics that do not exceed 3 pounds. When used, you can get the items dried within 50 minutes.
Speed Dry: Supposing you want to dry items that have quick drying times, stick to the Speed Dry cycle. Under normal conditions, this setting should get the items dried in 25 minutes.
Wrinkle Care: This tumbler setting makes it easier to remove your laundry from a dryer without bothering about wrinkles. Normally, this setting continues tumbling the clothes until you open the door of the dryer or every 3 hours.
Kids Clothes: The ideal choice for kids' clothing. Although it uses high temperatures to remove germs from fabrics, it keeps them safe from any type of damage. Moreover, this mode makes the clothes dry within the shortest possible time.
Is the Wool Setting on a Tumble Dryer Cool?
On some tumble dryers, you can find the Wool Setting. As expected, this cycle is perfect for drying wool items while keeping them from damage. For this reason, it is seen as a cool setting on these devices.