A Maytag Dryer might have incredible features for doing your laundry. But before you can experience the best results on your clothes, it would help if you used the dryer with its right settings.
In this post, we will be the right different Maytag Settings for different fabrics. After all, applying suitable heat to such garments is an easy way to improve the performance of the device.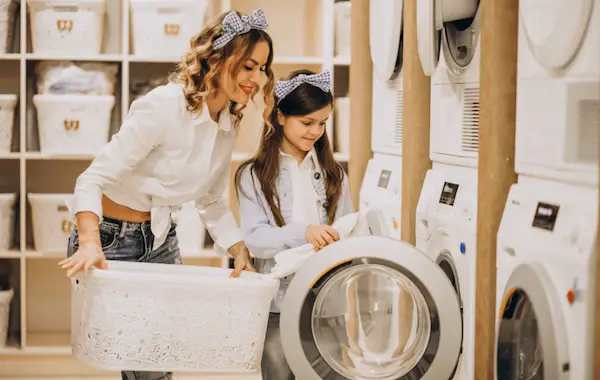 Maytag Dryer Settings Explained in Detail
Here are the best settings for using the Maytag Dryer. Although this article was well-researched, it is meant for informational purposes. With this in mind, we suggest that you check the owner's manual of your Maytag Dryer for the ideal settings.
Permanent Press: The Permanent press setting is designed to give your wrinkle-free garments an ironed look. To get the best look from this mode, ensure that you dry a few articles at a time. Also, remember to keep removing the items from the drum as they are dry.
No Heat: Although the No Heat setting does not use much heat, it is still a great way for drying items made from synthetic fibre, wool and even spandex. As you use this setting, you keep them dry and safe from damage.
Drier: If your Maytag Washer boasts of this setting, you can use it to dry denim, towels or even heavy work clothes. Although it promises high temperatures for quick drying, the actual drying time depends on the type of fabric in the machine.
Delicate: With this Mode, you can dry anything from sportswear to lingerie. As it offers low temperatures, the Delicate setting will not damage such clothing.
Heavy Duty: Does your Maytag Dryer have a Heavy Duty setting? If yes, then you could use this item for drying towels,  heavy overalls or even denim. You can also use it for garments that might take a lifetime to dry.
Whites: Drying white fabrics might look like a chore. But using the Whites setting is enough to remove moisture from such materials. After, it offers high heat that can cover huge loads of white laundry.
Wrinkle Control: As with the Permanent Press mode, the wrinkle control setting ensures that lightweight items, shirts and blouses get the perfect dry. As it uses medium heat, this Maytag Dryer setting removes moisture while caring for the item.
Sanitize: Supposing you want to deal with any germs on your fabrics, stick with the Sanitize setting. To avoid any damage to your clothing, try to use these settings with only tough garments.
Normal: The Normal cycle stands as the ideal setting for sheets, everyday clothing and even work clothes. Unlike some cycles, the Normal mode uses less heat and even saves more energy.
Quick Dry: You can use the Quick dry setting for smaller loads at a time. But as you use this cycle, adjust the temperature setting to the level that suits the fabric. For instance, if you use Quick dry with a shirt, leave the temperature setting on Medium.
Bulky: Thick outwear and bedding work with the Bulky dryer setting. To perform this task, the setting uses medium heat for a complete dry.
What Dryer Settings Should I Use for Delicates?
If you use a Maytag dryer for your laundry, choose the Delicate setting on the machine. When it comes down to it, this cycle keeps the fabric safe from moisture and damage.
Why Does Maytag Dryer Take So Long to Dry?
There are many reasons why a Maytag Dryer might be slow with drying your clothes. For instance, the device might not have the right voltage from its power source. Moreover, an overloaded drum or blocked air vents can also cause the same issue.
Maytag Dryer Heat Settings
On most Maytag Dryers, you can find the various temperature settings. They include High, Medium High, Medium, Low, and Air Only.
Air Only: Unlike most Maytag Dryers, this setting does heat clothes. For this reason, it comes as the ideal setting for delicate fabric and footwear.
Medium-high: With the right temperature, the Medium setting can dry tough items such as bedding, work clothes and even towels. Also, this set is perfect for removing moisture from large loads.
Medium: Medium heat can also be used with different types of fabrics. Also, this setting makes sure that the clothes do not get damaged
High: The High-Temperature setting is the highest heat mode on the Maytag Washer. With this in mind, this mode is built for denim, work clothes, and other sturdy clothing.
How Do I Reset My Maytag Dryer?
Sometimes your Maytag Dryer might display an error code. To solve this issue, you can choose the Reset to Factory Setting option or press the Power/Cancel button twice and then choose a cycle and hit Start.
According to some experts, you can also perform a reset by unplugging the dryer from the wall. Then wait for at least 5 minutes before plugging the device back into the wall outlet.
Maytag Commercial Dryer Settings
The Maytag Commercial dryer settings include:
Heavy Duty: With this setting, you can get one of the hottest temperatures on the Maytag Commercial dryer. Thanks to its levels, you can use this setting for bulky or heavy items such as denim, bedding, and even workwear.
Timed Dry: The Timed Dry Setting allows the Maytag Commercial Dryer to heat fabric for a chosen period. Normally, this setting works best for an item that does not need a complete cycle. Besides, it can also be used for items that can be damaged by heat e.g rubber or plastic clothing.
Wrinkle Control: Are you tired of seeing wrinkles on your favorite fabric? This Maytag Commercial setting ensures that your dried item stays smooth by tumbling the load from time to time.
More Dry: Towels, sheets, denim and other bulky materials can be used with this setting. As expected, the More Dry cycle provides the right heat levels for removing moisture from such an item. On top of that, it completes the drying process within the quickest possible period.
Less Dry: If you want to dry lingerie, performance clothing or lightweight items, stick to this cycle. After all, this setting provides low temperatures that will not harm such heat-sensitive clothing.
Normal Dry: The Normal Dry setting keeps fabrics under medium heat. So if your load includes workwear or sheets, you can try this cycle.