Do you own an LG dryer? If yes, there might be many reasons why you would love to use it for your laundry. But if the LG dryer does not meet your expectations, then you might have mixed feelings about the product.
But before dumping the dryer, you can make things better by using the right settings. With these adjustments, you can expect your LG dryer to perfectly dry your dripping laundry.
Finding these settings might look difficult. But if you go through our article, you can learn about these settings and use them with your dryer. Now let's get started and learn the best settings for using an LG dryer.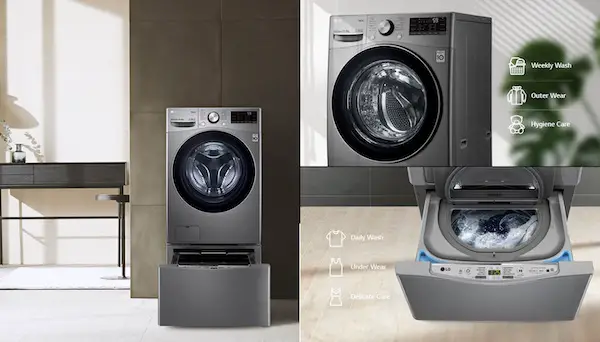 LG Dryer Settings Explained in Detail
Here are the LG Dryer Settings for the Best Performance. But before using these settings, check through the owner's manual of your LG model for extra advice. You can even reach out to LG Customer Service for the same purpose.
Air Dry: If you want to dry items such as rubber gloves or plastic clothing, you can choose the Air Dry setting. Although this mode does not use heat, the items should be dry within 30 minutes.
Anti Bacterial: Designed for tough fabrics, this setting helps reduce bacteria by using high temperatures. With this setting, the materials should be dried within a short period.
Bedding: Are you looking for the right settings for your comforters, blankets, and sheets? If yes, then you should choose this setting on your LG dryer. As you use the Bedding cycle, you can expect the articles to be dried within a short while.
Delicates: Light items such as lingerie, pillows and light clothing do well with the delicate setting. As this cycle uses a low temperature, there is no need to worry about damage. If you choose this setting, your fabric should be dried within 28 minutes.
Heavy Duty: Looking for an easy way to dry work clothes or denim with your LG dryer? Then place the items in the machine and choose the Heavy Duty set. Thanks to the high temperature, the clothing should be ready within less than an hour.
Jumbo Dry: If your LG dryer features the Jumbo Dry setting, then you can use the mode for heavy bedding. Even if uses medium heat, it should get the clothes dried within a short period.
Steam Sanitary: You can use your LG dryer to remove moisture from your kids' clothes or bedding. To get the best results, use the Steam Sanitary cycle
Steam Fresh: Soft shirts, trousers, and other delicate clothing are ideal for the Steam Fresh cycle. With this setting, the machine will offer medium-high temperatures.
Small Load: Designed for towel-like fabrics that do not exceed 3 pounds. When used, you can get the items dried within 50 minutes.
Speed Dry: Supposing you want to dry items that have quick drying times, stick to the Speed Dry cycle. Under normal conditions, this setting should get the items dried in 25 minutes.
Wrinkle Care: This setting makes it possible to remove your laundry from a dryer without bothering about wrinkles. Normally, this setting continues tumbling the clothes until you open the door of the dryer or every 3 hours.
Kids Clothes: A perfect choice for kids' clothing. Although it uses high temperatures to remove germs from fabrics, it keeps them safe from any type of damage. Moreover, this mode makes the clothes dry within the shortest possible time.
Why is My LG Dryer Not Drying My Clothes?
If your clothes remain wet after a cycle, then you can trace the problem to a blockage in the home exhaust system. To deal with this issue, you will have to clean out any mess that might have caused the blockage. Most times, this task can be performed by an experienced technician
How Can I Improve My Dryer's Performance?
There are tons of ways that you can enhance the performance of an LG Dryer. As expected, these hacks do not require any technical expertise. Now here are some of the easy ways that you can perform this task.
1. Do not exceed the Max Limit
While using the LG dryer, it would help if you do not overload the machine. Instead, stick to smaller loads as they put less pressure on the motor.
2. Clean the Filters
With clean filters, your LG dryer can quickly remove moisture from fabrics. For this reason, it is advised that you perform regular cleanups on the dryer.  If you are not sure of the right steps to clean your dryer, check through the manual that comes with your LG dryer
3. Shake Items Before Drying
It is normal to shake items before placing them into the washer. With this tip, you can remove any items that might be hidden and not get enough heat for proper drying.
How Long Does LG Dryer Take to Dry Clothes?
The time used on an LG Dryer depends on the cycle used. For instance, the Air Dry Setting uses at least 30 minutes while the Wrinkle Dry Setting continues until you open the door.
What is Speed Dry on LG Dryer?
Speed Dry is used to remove moisture from quick-drying items. By design, this mode dries wet fabric within 25 minutes.
Does Adding a Dry Towel to the Dryer Help?
Yes, adding a dry towel to a loaded LG dryer can remove the moisture from the wet laundry. Although it reduces the energy used by the LG Dryer, it cannot shave off the expected drying time.
What Happens if You Put Dry Clothes in the Dryer?
Supposing you place dry clothes in the dryer, the heat will affect the fibers of the clothing. As a result, the clothing will become smaller than expected.
LG Dryer Wrinkle Free Settings
With the LG wrinkle-free setting, you can keep your clothes smooth and free from wrinkles. Unlike other modes, this setting tumbles every three hours. On top of that, it stops as soon as you open the door.