When it comes to washers, Samsung offers some of the best models on the market. As expected, these machines boast incredible designs and features. On top of that, these items can be used for a wide selection of fabrics.
Before you can get the best results from the Samsung dryer, you will have to apply the right settings. But as there are many cycles on this device, anyone can be confused about the perfect choice to make. For this reason., you might need a guide.
In this post, we have listed several settings for adjusting the Samsung Washer. So, if your dryer starts to act weird, you can use these settings to improve its performance.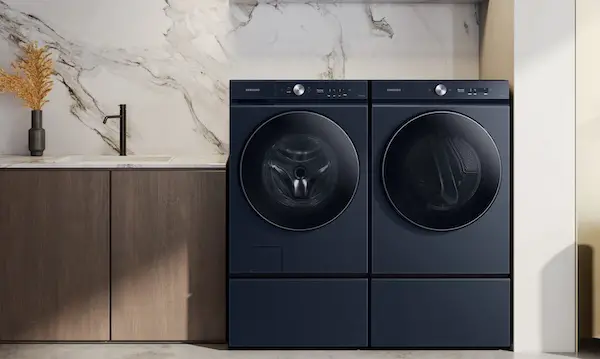 Samsung Washer Settings for Explained in Detail
Now here are the ideal settings for improving the performance of the Samsung washers. But before using our tips, we suggest that you check through the owner's manual that came with the device. Moreover, you can also contact Samsung Customer Service for extra advice.
AL Wash: Also known as Optimal Wash on some models, this setting automatically adjusts the Samsung washer based on the load and the mess on the fabric. To use this setting, ensure the Auto dispense function is active.
Baby Care: Are you looking for a Samsung Washer setting for your toddler's clothes? If yes, then you can stick with the Baby Care mode as it works well on such items. As you use Baby Care, it uses high temperatures to remove the germs. On top of that, Baby care allows extra rinsing to remove any soapy residue.
Bedding: Perfect for washing sheets, comforters, and other bedding items. Although the Bedding mode is ideal for such items, it would help if you washed one type of bedding at a time. For better results, make sure the load stays under 4kg.
Cotton: With the Cotton mode, the duration of the wash depends on the combined load of the fabrics. If you find this setting on your Samsung Washer, use it for cleaning your cotton garments.
Dark Garment: The Dark Garment Mode works best for your dark-colored clothing. As it cleans the fabric, it uses extra rinses but less spinning for a perfect wash.
Daily Wash: Do you prefer a setting for your underwear or a regular t-shirt?  If yes, then head to the Samsung washer and choose the Daily Wash cycle. But as you wash these items, make sure their overall weight does not exceed 4kg.
Delicates: If your washer has a Delicate setting, you can use it for clothing such as lingerie or sheer clothing. To get the desired results, choose liquid detergents to clean such items with the washer.
Denim: There are many reasons why this mode is perfect for washing jeans. For instance, this cycle offers high temperatures for thorough cleaning. On top of that, the cycle ensures that the fabric is well rinsed with enough water.
Outdoor Care: If you have loads of dirty performance wear, you can choose the outdoor care setting. For better performance, make sure that the load does not exceed 2kg.
Speed Care: Speed Care completes a cycle within an hour. However, the exact time depends on factors such as the load and water supply.
Super ECO wash: Supposing you are concerned about saving energy in your home, you should stick with the Super ECO wash. When used, this mode washes your laundry with little electricity and low temperatures. Although it uses fewer resources than most modes, Super ECO wash offers impressive results.
Why Are Samsung Wash Cycles So Long?
According to some users, Samsung Washers spend too much time washing laundry. However, this scenario is caused by the attempts of the washer to consume less water.
How Do I Calibrate My Samsung Washer?
As there are different models, there are no general ways to calibrate washers. But if you want to perform this task, you have to use the following methods.
Also, remember to check the manual of your device before using the following tips. Then ensure that there are no items in or on top of the washer.
Method 1: Setting Calibration Through the Settings
Head to the screen of the washer and tap DISPLAY
Choose Calibration
Hit Start
Method 2: Setting Calibration via Smart Control Buttons
Switch the Samsung Washing machine OFF and ON
Press and hold the Prefer Mode/Smart Control for 3 seconds
Scroll to Calibration
Hit Ok
Press the Start/ Pause button to start Calibration
Method 3: Setting Calibration via Temp and Delay End + buttons
Switch the Samsung Washing Machine OFF and ON
Press and Hold the Delay End Button and wait for the CB code to appear
Leave the button as soon as the code appears
Why Do My Clothes Look So Dirty?
If your Samsung washer does not wash your clothes properly, then you might have to do the laundry in smaller loads. After all, overloading the washer prevents it from cleaning the fabric completely. You can avoid this issue by working within the specified load limit of the machine.
How to Reduce Time in a Samsung Washer
Supposing your washer feels too slow, you could the following tips that might improve its performance:
Do Not Exceed the Weight Limit
Overloaded washers tend to work slower than expected. But you can speed things up by working with smaller loads or getting a washer with a larger drum.
Get Professional Help
Sometimes the washer might have a faulty control panel or load sense system. So if reducing the load does not improve its speed, you should contact Samsung Customer Service. Normally, they should provide qualified hands for fixing any damaged hardware that could reduce the speed.
How to Wash White Clothes in the Samsung Washing Machine
The Samsung Washing machine can clean all items including white clothes. But if you are aiming for the best results, try the following steps:
For White Clothing
Select the Whites/Normal Cycle on the Samsung Washer
Add some detergent to the Detergent drawer
Add some bleach (except chlorine bleach) to the Bleach drawer
Place the clothes into the Samsung
Start the cycle and wait for it to end
Dry the items based on their material e.g., cotton on high settings while synthetic goes on medium or low settings.