Are you a sports fan that views sporting events on the LG C1? Are you thinking about getting better images from live matches or races? If yes, then you will need to make some adjustments to the TV.
The LG C1 has picture settings for many contents including sports events. As expected these settings can improve your viewing experience on this device.
Getting the settings might be tricky for you. But if you have a great guide like ours, you can turn your C1 into a great tool for viewing any sports event.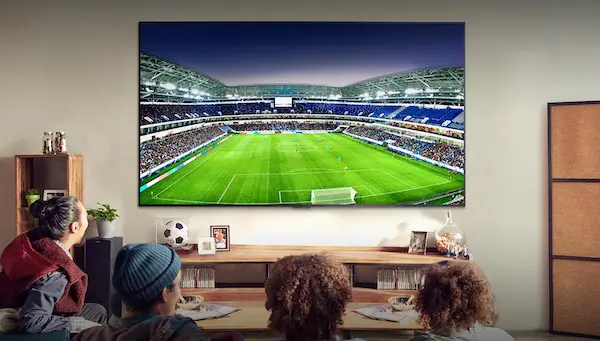 LG C1 Sports Settings Explained
Here are the top settings for watching sports with the LG C1. Although these settings are well-researched, they are purely for informational purposes. So if you want to get the best settings, you will have to consult the owner's manual that came with your TV.
What is Sports Mode on LG C1 TV?
On the LG C1 2021, you have the Sports Mode that provides preset settings for viewing sports events.  If you want to switch to this setting, you can go through the Settings Menu via the remote.
Click on the Settings menu
Choose all Settings – Support- Energy Savings – OFF
Click on Picture – Mode – Sports
But if you want to calibrate the TV for sporting events, try the following settings:
Click on Aspect Ratio – User Selection – Original
Set Just Scan to ON
Go to Brightness- OLED and choose 65
Adjust Contrast to 85
Leave Brightness on 50
Set ADC to Off
Set Peak Brightness to Off
Adjust Gamma to 2.2
Set Black Level to Auto
Set MEC to Off
Leave Color Depth on 50
Set Tint to 0
Leave Gamut to Native
Set Color Upgrade to Off
Leave Color Temp on Warm 150
Set Method on 2 pts
Leave the Point on High
Go to Clarity- Sharpness – 20
Set Super Resolution to Low
Set Noise to Low
Leave MPEG on Low
Set Smooth to Low
Leave Cinema Screen on On
Leave Tru Motion on Smooth Movement
Scroll to Al Service to Picture Pro: Off
Set Brightness to On
Leave Genre on On
You can also try these Reddit settings for watching Sports from an SDR Source:
OLED Light – Use any Setting you like
Leave Contrast on 85
Leave Brightness on 50
Set Gamma to 1.9
Switch Off Dynamic Brightness
Tune Black Level to Full
Move Sharpness to 25
Move to Clarity Menu – Sharpness to 25. ( Leave Other Settings on Low)
Adjust TruMotion to Cinematic Movement
Set Color Depth to 48
Leave the Color Gamut on Native
Set Warm to any value between 0 – 25
Set Cold to any value between 0 – 25
Leave Green on – 10
If you are watching from an HDR Source, you might not have to bother with the HDR Settings. After all, this TV automatically adjusts these settings itself. Overall, we recommend that you keep these settings on default.
But if you plan to use external devices with your LG TV, it would help if you switched on the HDMI Deep Color option. Moreover, if setting the HDR offers dimmer images, you could turn on Dynamic Tone Mapping and Auto Dynamic Contrast.
How Do I Turn Off Energy Saving on the LG C1?
Although the Energy Saving mode helps reduce the power consumption of your LG C1 TV, it tends to disturb the quality of your sports images. For this reason, it is advised that you switch off the Energy Saving Mode with the following settings:
Click on the Settings menu
Choose all Settings – Support- Energy Savings – OFF
LG C1 Dolby Vision Settings
On Reddit, users post Dolby vision settings for watching various types of content. According to them, the following settings can enhance the quality of pictures from the C1.
As you use Dolby Vision, head to Cinema – Home and switch to Genre Selection. Then move to Color for Dolby Vision and adjust to 50. Finally, you could leave the Brightness settings at 46 – 50.
How Do I Calibrate My LG C1 TV?
If you want to get the best picture quality on the LG C1, you can try the following settings:
For HDR: Leave the settings on default as the TV adjusts itself for such content.
For Gaming: The LG C1 tends to automatically set for HDR gaming. Also, ensure that you enable HDMI Color for the port which you will be using.
For SDR content:
Set the Picture mode to Expert (Dark Space, Night ) mode. If you are in a well-lit room, stick with the Expert ( Bright Space, Daytime) mode.
Leave Peak Brightness at High
Adjust the Contrast to 85
Set the Sharpness to 0
Leave the Color Depth at 50
Reduce the Tint to 0
Adjust the Super Resolution: Disabled
Set the Noise Reduction: Disabled
Leave the Auto Dynamic Contrast: Disabled
Adjust the Color Gamut: Auto
Go to the Gamma: 2.2
Set Smooth Gradation to Off
Is the LG C1 Good for Sports Viewing?
As it has decent refresh rates and wide angles, the LG C1 stands as an ideal TV for viewing sports events. But its performance can be enhanced by applying the above-listed settings on this post.
Is Dynamic Mode Good for Sports?
According to experts, Dynamic Mode is not the right choice for viewing your favorite sports on the C1. After all, this mode can muddle the brightness, contrast, and sharpness settings. Instead of choosing any preset modes, try the settings listed in this article.
What is LG C1 Filmmaker Mode?
Asides from the Sports mode, the C1 offers the Film Maker mode for improving movie content. As stated by LG, this mode can remove any picture processing and make the pictures look as authentic as possible. Normally, the Film Auto detection mode applies this mode automatically.
LG C1 Picture Modes
The LG C1 boasts several modes including Cinema, Sports, Vivid, Film Maker, Game Optimizer, Standard, and Expert ( Bright Space, Day ). If used correctly, these settings can improve the appearance of your pictures on the TV.