Samsung QLED TVs come with features that suit various types of media. For instance, they offer better colors, images, and faster processors. With these TVs, you can enjoy 4k or even 8k  content.
It is easy to recognize a Samsung QLED TV. Start by looking at the model number of your TV. If its starts with a Q, then you have a Samsung QLED TV.
Out of the box, a Samsung QLED promises better images than regular TVs. To enjoy this feature, it is ideal that you play around with some color settings. As expected, these adjustments can be performed without any professional help.
Are you ready to improve your TV visuals? Here are the best settings for your Samsung QLED TVs.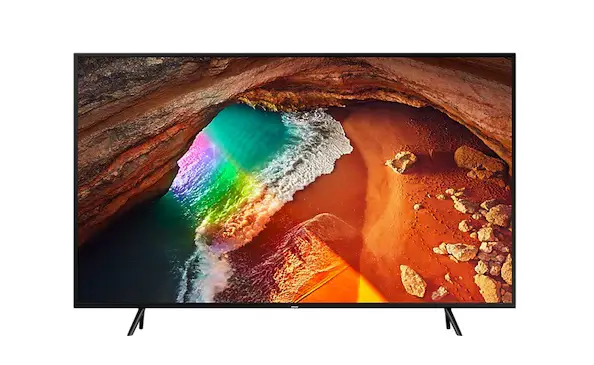 Samsung QLED Calibration Settings
Here are the best settings for adjusting Samsung QLED settings. If you use these suggestions, you can view several types of content with stunning images.
Set Picture Mode on Movie
Leave Brightness on 0
Adjust Contrast to 75
Leave Sharpness on 5
Set Color to 28
Leave Tint (G/R) to 0
Also, use the following settings
Set Apply Picture Settings to All Sources
Turn off Digital Clean View
Turn off Auto Motion Plus Settings
Set Contrast Enhancer on High
Leave Film Mode on Auto1
Adjust Color Tone to Warm 2
Leave Gamma on 2.2
Toggle Color Space Settings on Auto
Round-Up with Following Settings:
Leave White Balance on 2 Point
Set Red Gain to 9, Green to -5, Blue Gain to – 8
Set Red Offset to 0
Green Offset to 1
Blue Offset to 3
Best Samsung QLED Calibrating Settings — SDR content
If you use a QLED TV, it is possible to get the best images from your regular Bluray DVDs. You can also enhance the display of TV programs. For this task, you will have to adjust the QLED TVs to suit SDR content.
Here are the required settings that suit SDR material:
Adjust Picture Mode to Movie
Set Contrast to 45
Reduce Sharpness to Zero
Leave Color at 25
Reduce Tint to 0
Set Gamma to 2.2
Reduce Color Tone to Warm 2
The Best QLED Settings for HDR Content
If you are more interested in UHD movies or programs, you will have to use make different adjustments from the ones used SDR content. First, enable Input Signal Plus on the QLED Television.
To activate Input Signal  Plus does not require much work. On the QLED TV, go to Settings > General > External Input Manager > Choose Sign Plus.
Apart from enabling Input Signal Plus, HDR settings should be enabled on the TV. But since the TV automatically handles these settings, there is no need to bother with them. In other words, just leave the settings alone.
Now here are the only adjustments needed to boost HDR images on Samsung QLED TVs. You should use them if they automatically adjusted settings created dim images on your TV.
Tune the Brightness, Contrast, and ST.2084 to Maximum
Leave the Contrast Enhancer to High
Best Samsung QLED Settings for PS4
A Samsung QLED TV is ideal for playing your PS4 games. But if you are playing an HDR PS4 game, remember to enable Input Signal Plus. Once you have set up this feature, try the following values
Sharpness : 0
Contrast: 50
Brightness: 50
Colour: 25
Tint (G/R) : 0
Local Dimming: High
Shadow Detail : 0
Color Space Settings: Auto
Contrast Enhancer: Off
Gamma: ST. 2084
2084 : 3
White Balance: Leave the Settings on Default
Best Samsung QLED Settings for Xbox
Xbox consoles are also compatible with Samsung QLED TVs. Luckily, they even use the same QLED calibration settings as the PS4. As you use the above settings, ensure that you turn on Input Signal Plus for HDR gaming.
Wrapping Up
The Samsung QLED TVs are ideal for viewing games, movies, sports, and TV programs. Thanks to its features, you can expect high-quality images from most types of content.
All of our suggestions should improve your TV's display. But if you don't like the results, feel free to play around with our recommendations until you have the best calibration for your unit. You can also get additional settings from trusted user forums.