Before you can become a better Rocket League player, you will need to get the right camera settings. After all, a perfect view of the arena allows you to make better shots and perform other actions. To get the best settings, you can check out the values used by top Rocket League gamers.
Aztral is one of the top players of the game. Besides, he offers some of the ideal settings for the game cam. With this in mind, you can look out for his settings and try them out.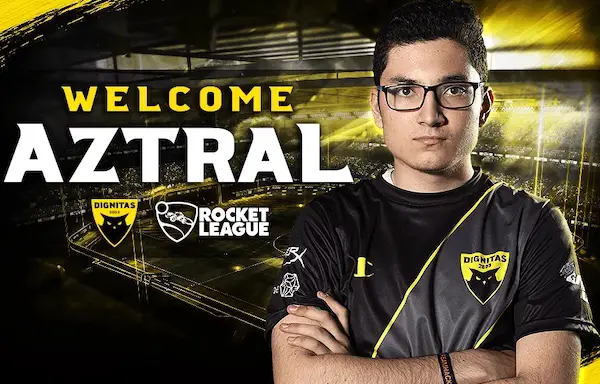 Aztral Camera Settings (Updated)
If you want to improve your rankings on the Rocket League, you should consider getting the ideal camera settings. After setting the camera properly, you will notice some improvements in your gameplay.
Like every top player, Aztral does not leave all his settings on default. Instead, he uses the following settings as he plays the game.
FOV – 110
Height – 100
Angle – -5.0
Distance – 270
Stiffness – 0.40
Swivel Speed – 7.00
Camera Shake – No
As mentioned earlier, you can use a top player's settings to adjust your game cam. But instead of copying the exact values, use them as a template for finding your settings. Play around with these values until you find something that goes with your style of play.
If you notice any errors in our list, shoot a message to any of our social media channels. As soon as we solve the problem, we will offer an updated list.
Aztral Camera Settings vs. Experts' Opinions
In the Rocket League, top players tend to generally agree on some settings. So if they are adjusting a particular feature, most of these gamers might use the same values. However, other players might ignore these values and choose numbers that suit their style of play.
Does Aztral follow the general style of adjusting his camera or use customized settings? Let's find out by comparing his adjustments with the settings of other players.
Camera Shake
If you turn on this camera, your camera will offer realistic shakes, especially during crashes. Although this option provides excitement to the game, it would help if you switched off this feature. After all, a camera shake can lower your levels of concentration.
As expected Aztral turns off his Camera Shake option. Asides from this top player, other pros also feel comfortable with leaving the setting at "OFF". With this in mind, deactivating Camera Shake stands as a popular idea in the Rocket League.
Camera Swivel Speed
This setting affects the speed at which the game cam turns with your vehicle. When you increase the swivel speed, the camera becomes extra fast. But if you lower this option, the camera will also reduce its speed.
Experts recommend that you leave the swivel on a default setting of 0. However, some players prefer working with a speed of 1. As for Aztral, he pushes the setting to 7.00.
Camera Angle
The camera angle setting controls the angle from which the game camera faces your vehicle. Since this setting might be tricky, pros prefer to leave it at -3. But some players would like to use different settings.
Astral is one of such players. Instead of choosing an angle of -3, he picks -5 and goes into any match. As expected, he uses this value to create an ideal game camera.
A poorly set camera can lead to various problems. Let's say you choose the wrong setting, it becomes difficult to set up a perfect shot. Moreover, it can provide a terrible view of the arena.
More about Aztral
Aztral (real name:  Maëllo Ernst) is one of the best players of the Rocket League. He was born in December 2002 in Belgium.
He was introduced to the game by a friend. After some time, he decided to go pro.
He joined the professional part of the Rocket League by joining Team TMB. After spending about a year at this club, Aztral moved to Dignitas and several other clubs. Currently, Aztral plays the Rocket League for Karmine Corp.
During this period, the player made several achievements. For instance, Aztral has recorded many wins on Rocket League. Besides, he can boast of total earnings of $120,622.