The Rocket League is a soccer/car video game. To play the game, gamers will have to use vehicles as football players. Then, these cars will hit a large ball to the opposing team's goalpost and try to score.
Before you can become a good Robot League player, you will need the best camera settings. After all, these options allow you to view the field properly and even take on rivals.
Finding these settings can consume time and effort. You might even end up with settings that do not match your gameplay.  But you avoid this stress by picking camera settings from a pro Rocket League player like Deevo.
Deevo stands as a top player in the Rocket League. Asides from showing great talent, he boasts of an incredible camera setup. Now let's check out Deevo's camera settings.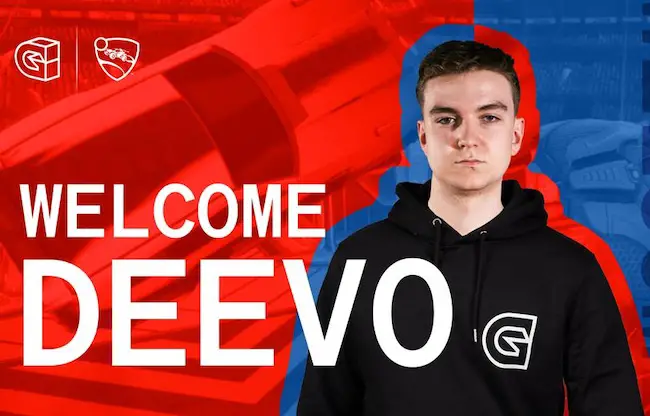 Deevo Camera Settings (Updated)
To play the Robot League, you will need more than skills. With this in mind, you should head to the Settings menu and adjust the in-game camera. You can check out Deevo's camera settings and use them as a reference for your adjustments.
Camera shake – No
FOV – 110
Height – 100
Angle – -5.0
Distance – 270
Stiffness – 0.40
Swivel speed – 4.50
Transition speed – 1.40
Ball camera – Toggle
Like most pro gamers, Deevo might change the values for setting his camera. So if you notice any outdated info on our list, you can send a complaint via our social media channels. With your help, we can keep our list updated and provide the latest details.
Deevo's Camera Settings vs. Experts' Opinions
In the Robot League, some top players use a set of general settings for working on the in-game camera. However, other players leave out these settings and work with other values.
In this part of our post, we look at Deevo's settings. Then we will compare these adjustments with the values used by other top gamers.
Camera Shake
Camera shake is one of the most interesting camera settings. When you get into a car crash or move at high speeds, this setting simply shakes your in-game camera. Although it looks like a cool feature, it can affect your concentration and performance.
For this reason, many pro gamers turn off the camera shake setting. Since it does not offer much use, Deeevo also sets his camera shake setting to OFF.
FOV
Also known as the Field of View, FOV is another important Robot League camera setting. If you adjust this option with a high setting, you will end up with tunnel vision that might annoy you. However, a high FOV also promises a larger view of the arena.
Most elite players prefer a maximum setting of 110. If we check Deevo's camera settings, we will notice that he also uses the same value to adjust his FOV setting.
Camera Angle
The camera angle is the angle from which the in-game camera faces your vehicle. If you do not pick the right camera angle settings, you might not get an ideal overview of the arena.
When adjusting his camera settings, Deevo leaves the camera angle at -5.0°. But other pros are comfortable with using the default angle setting of -3°. Looking at this comparison, it is obvious that Deevo can be adventurous with his adjustments.
Camera Height
When it comes to the height of the in-game camera, players choose values that suit their playing style. For instance, some gamers prefer high game settings while others choose something lower.
So how do elite Rocket League gamers set their camera height? Well, these gamers choose values from 100 to 120. As for Deevo, he stays with the default setting of 100.
More About Deevo
David "Deevo" Morrow is an English Rocket League player and also one of the top players of the game. In 2015, he started playing Rocket League as a casual player. After improving his skills, he moved decided to go professional.
He started his career with Dot Dot Dot before moving to larger teams like Team Envy and FC Barcelona. Currently, he plays with Guild E-sports.
During his time at these teams, Deevo has played and won several Rocket League events. He was also a member of the British Rocket League team.