The ASUS VP28UQG gaming monitor is built to provide an amazing gaming experience. The 28-inch monitor sports an impressive 3440 x 2160 display, which has a pixel density of 157 PPI. That's more than enough to give you the real-life-like clarity you need to enjoy your favorite games.
Although the ASUS VP28UQG comes with impressive specs, you need to get the display settings right to enjoy the monitor's high-quality motion pictures and excellent overall visual performance. And in this article, you would be learning the best settings for the ASUS VP28UQG gaming monitor.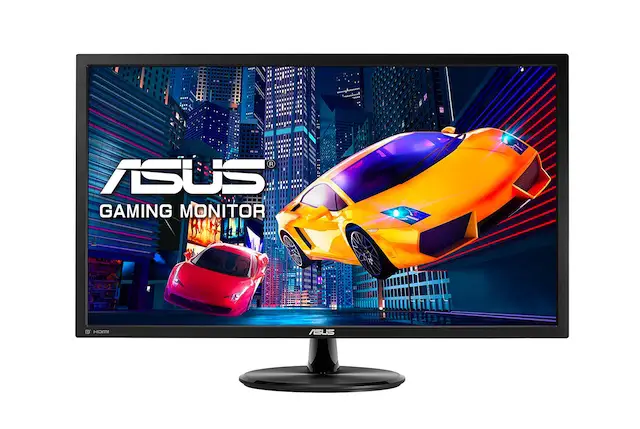 Best Settings for ASUS VP28UQG
ASUS VP28UQG features customizable settings or GamePlus technology that allows you to derive maximum satisfaction when you are playing games or watching videos. The high-quality motion pictures or gaming characters you see on ads are not magic, but they're based on some specific settings that have been set on ASUS VP28UQG.
Navigate through the settings menu and you will find some of these settings that you can optimize for good visual performance.
At a quick glance, here are the best settings for ASUS VP28UQG:
Splendid setting: Game mode
Contrast: 75
Brightness: 50 (or slightly lower)
Vivid Pixel: 50
Smart view: Off
Trace free: 60
Color Space: PC RGB
Color depth: 30 bits per pixel
ASUS VP28UQG Best Settings Explained
Now, let's explain each of these settings in more detail
Splendid settings
The first setting to enhance good visual performance in ASUS VP28UQG is to set the Splendid option as "Game mode".  This mode setting will give you maximum satisfaction of the gaming experience you require. As the setting option "game mode" implies, it ensures you have a fantastic video game experience.
Likewise, there's an avenue of switching to "theatre mode" if you are bored of playing video games. The theater mode settings are used for watching movies to derive premium home entertainment and maximum satisfaction.
Contrast settings
Also, you can adjust your contrast settings to 70-75 percentage level. The contrast will enable differences in color of elements, object,s, and other characters in your ASUS VP29UQG gaming monitor. It is important to note that the contrast level you are setting would affect the image and character's color that might help or mar your eye vision. Hence, choose the contrast level setting that suits your eye vision to avoid any unforeseen eye defects.
How to set brightness control
Furthermore, another setting you can optimize in your ASUS VP29UQG for good visual performance is the brightness control level. This brightness control level is similar to contrast settings; they both have an effect on images and characters in the video game. The brightness control should be something between 40 and 50 (40-50). Adjusting your brightness control to 40-50 would ensure the protection of your eye vision. Therefore, you are advised to choose brightness settings that are best for your vision.
Vivid pixel settings
Adjust your vivid pixel settings to 25-50. VividPixel Technology in AXUS VP29UQG helps enhance image outlines and reduce noise bars for crystal-clear and detail-oriented viewing. With on, your images, other elements, and characters will be very sharp and clear. VividPixel Technology simply ensures quality pictures.
How to disable Smart View
Ensure you disable your smart view or ASUS Smart Contrast Ratio (ASCR). ASUS Smart Contrast Ratio (ASCR) Technology makes the display's dynamic contrast ratio up to 100,000,000:1, which adjusts the brightness according to the content so that the picture will be displayed with dark levels. It is very important to turn off your smart view settings
How to set a balanced trace-free option
Almost all Asus brands have trace-free settings options. Trace free refers to potential response time or input time. Better still, trace-free controls the overdrive for response time. You can adjust your trace-free setting to 60, which is the best and most common figure for a trace-free setting.
Low overdrive settings can cause ghosting to appear while high overdrive settings can cause coronas to appear but setting trace free at 60 balances ghosting visibility and corona visibility. This setting provides balance for moving that ghost image so that it disappears quickly rather than forward or behind an object in motion.
Color space settings
Also, ensure you set sRGB as color space. Standard Red Green and Blue (sRGB) is a color space that defines a range of colors that can be displayed on the screen. RGB is the most widely used color space and sRGB specification makes sure colors are represented the same way across the screen.
How to select color depth
Lastly, color depth settings should be 30-bits per pixel. The color depth of an image or bit depth is measured in bits. The number of bits indicates how many colors are available for each pixel. This greatly shows that the greater the color depth (bits per pixel), the more colors are available on your screen.