If you want a powerful gaming monitor, you should consider getting the ASUS ROG Swift PG258Q. When it comes down to it, the display offers incredible gameplay and visuals. Besides, it boasts of reasonable game time.
But before you can experience the true power of the PG258Q, you will have to play around with these settings. Here are some settings that can enhance your experience with this gaming monitor.
ASUS ROG Swift PG258Q Best Settings for Different Applications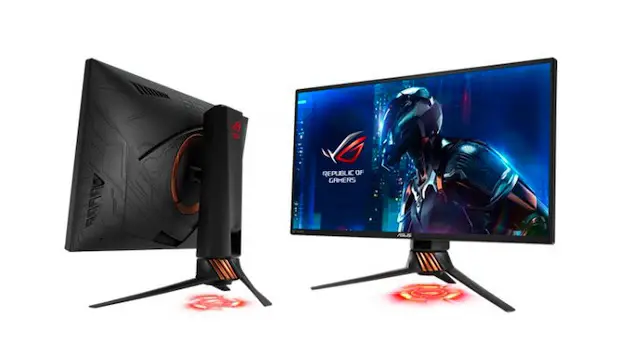 Best Fortnite Video Settings for ASUS ROG Swift PG258Q
Although the gaming monitor can enhance your visuals, you can bump up more quality by making some adjustments. With this in mind, you can set your ROG monitor and enjoy every detail that Fortnite has to offer.
If you are using an ASUS ROG Swift PG258Q to play Fortnite, you can test these video settings to improve your gaming. The following settings are made from the Fortnite game.
Under the Graphics quality tab –
Auto Set Quality: Auto Set
Quality Preset: Custom
3D Resolution : 100%
View Distance: Near
Shadows: Off
Anti Aliasing: Off
Textures: Low
Effects: Low
Post Processing: Low
Scroll Down to Advanced Graphics and use the following settings
Vsync: Off
Motion Blur: Off
Show FPS: ON
Direct X Version: Direct 11
Allow Multi-Threaded Rendering: ON
If you want to set the display resolution of the game, allow it to match the resolution of your ASUS monitor. Remember to set the Window mode to Fullscreen while the Frame Rate Limit should be adjusted to Unlimited.
Best Asus ROG Calibration Settings
If you want to have better visuals on your ASUS ROG Swift PG258Q, it would help if you calibrated the screen. Here are some settings that might help with this task.
Gaming Visual: Racing
Brightness 200 cd/m2 : 37
Brightness 120 cd/m2: 10
Contrast: 41
Gamma: 2.2
Color Temp User: Red 95, Green 100, Blue 100
Dark Boost: 1
Best Asus ROG Swift PG258Q Settings for PC
As you use the display with a PC, you can set the refresh rate of the monitor. After making this setting, you will not have to bother about flickering screens and headaches.
To adjust the refresh rate on the ASUS PG258Q,
Right-click on the Desktop and choose Display Settings
Choose Advanced Display Settings
Move downwards and choose Display Adapter properties
Choose the Monitor tab
Click on Screen Refresh Rate and select 240Hz.
Save the settings by choosing Apply
The Best Asus ROG Swift PG258Q  Settings for Reducing Lag in Competitive Gaming
If you are worried about the ASUS ROG Swift PG258Q and input lag, you can tackle the issue without much work. Start by choosing a gaming mode that does not require much image processing. With this in mind, choose the Racing mode. To get the best experience, try to calibrate that mode.
Are There Any  Best Asus ROG Swift PG258Q  Settings for PS4?
The PS4 might work with the Swift PG258Q. However, it is not ideal to connect both devices for the following reasons.
First, the ASUS monitor was not built to handle console games. For this reason, it cannot support devices like the PS4. Even if you manage to make both devices work, you will end up with a frustrating blurry view.
So are there any settings for the PS4 with the ASUS ROG monitor? Well, there are no settings that can help both devices especially if connected.
Wrapping Up
The ASUS ROG Swift PG258Q is one of the top gaming monitors in the market. Thanks to its many features, it has become a favorite of professional and amateur gamers.
To get the best experience, it would help if you tried any of the recommended settings. Since these values are not a general standard, you can tweak our settings to your preference. You can also try out other settings from gaming forums and Reddit pages.
Asides from setting the screen, it would help if you avoided using the ASUS gaming monitor with the PS4. Even if you apply the best settings, you will end up with a blurry image.
Also, ensure that the connections between the monitor and the compatible device are well secured. Moreover, look at the screen and determine the best viewing angle.