Rugid spreaders, although not common across the country, remain one of the most reliable lawn spreaders that money can buy. Perhaps their scarcity can be attributed to the high demand, which the manufacturers aren't capitalizing on yet.
If you're lucky enough to purchase one of these, you'll need to know specific spreader settings for certain substances to get the right application procedure. Using the right spreader settings is key to having a flawless turf, one every gardener (pro or amateur) always craves for.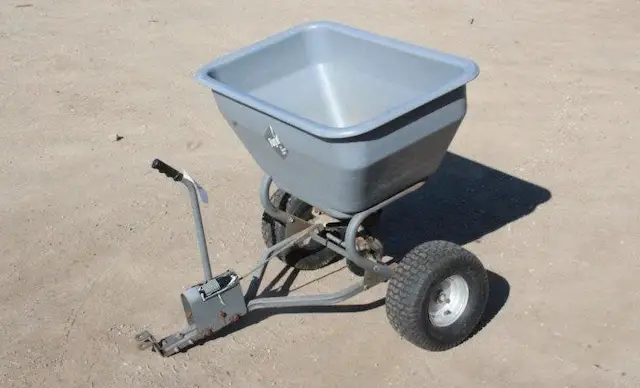 Rugid Spreader Settings
Here are some standard settings for a Rugid Broadcast Spreader with different products. Aside from picking from these settings right away, you can also check your manual of the spreader or container/bag of the applied.
| | | |
| --- | --- | --- |
| Brand | Broadcast Setting | Pounds Per 1000 sq. ft. |
| Lebanon 13-25-12 Country Club Fertilizer | 4 | 3 |
| Lebanon Dandelion Killer & Weed Control | 5.5 | 5 |
| Ringer 9-4-4 Lawn Restorer | 7 | 10 |
| Bandini Fall & Winter 21-6-12 | 5 | 4 |
| Lawn Weed Control Timec | 4 | 2 |
| Greenlawn Fall Weed & Feed 24-5-14 | 3 | 3.2 |
| 10-6-4 Weed & Feed | 4.5 | 4 |
| 26-3-3 Turf Food | 4.5 | 4 |
| Greenlawn 29-2-4 Team | 3/4 | 3/4.5 |
| Greenview Two Way & Feed  | 3.5 | 3 |
| Greenview Green Pro Insect Control & Food  | 4 | 3.5 |
| Scotts Super Turf Builder 30-3-3 | 4.5 | 3.2 |
| Scotts Turf Builder 29-3-4 | 4.5 | 3.1 |
| Scotts Starter Fertilizer | 4.5 | 3.6 |
| Scotts Halts Crabgrass Preventer | 3 | 3.3 |
| Scotts Fall Winterizer 24-3-12 | 4 | 3.0 |
| Scotts Moss Control 0-0-16 | 3.5 | 3.6 |
| Scotts Weed & Food Plus Fertilizer 27-4-4 | 4 | 3.0 |
While it's wise to have a standard spreader settings chart, it's also important to know that settings aren't exact for all spreaders. Certain factors like expansion from old age and design can affect your spreader, thus affecting your result.
Ideally, you don't want to go all out with any standard settings; you want to have a testing ground to ensure you get the composition right before going full scale with your spread. We suggest you use no more than a quarter of your entire lawn for testing. In cases where a quarter of your lawn is less than 1000 sq. ft., measure the space and divide it down to get your required quantity.
Testing and experimenting over time will give you the required experience to go ahead with the entire area. At any rate, if you don't feel like going through the testing process, using standard spreader settings like the one above will not lead to wastage or too many imperfections.
Step-By-Step Guide for Overseeding a Lawn/Turf 
Overseeding is a great way to remove bear patch imperfections on your lawn. Yes, we know that applying fertilizers and turf food is also efficient, but overseeding is the fastest, according to most top dressers.
This article contains a quick step-by-step guide to overseeding a lawn or turf. As part of general field maintenance, you want to check if your lawn needs overseeding at least after every winter.
Step 1: Get your Necessary Tools and Materials Ready
Of course, this is a no-brainer, but we're including it among the steps to make sure you have everything in place, or at least know the required tools for overseeding if you haven't done it before.
The basic equipment needed for overseeding are;
Lawnmower

Lawn rake

Seed/fertilizer spreader

Grass seed

Garden hose
Step 2: Mow and Rake the Lawn
Next, you want to clear your lawn to spread seeds that will contact the soil. This practice doesn't only help for better seed contact; it helps you spot more imperfections that blades of grass may have covered.
Of course, don't forget to rake the lawn to remove dead grass and foreign objects like sticks and stones from the soil. Remember, the goal is to make the soil clear enough for spread seeds to fall directly on imperfect patches.
Step 3: Carry out Soil Amendment
This is where you conduct a soil test to know the pH of the soil and amend it accordingly. Make no mistake about soil amendment and fertilizer application because the latter doesn't necessarily need a soil test for it to be carried out.
While a soil test will allow you to know the deficiencies in the soil, carrying out amendments will help you normalize the soil's composition.
Step 4: Spread Your Grass Seeds
Next, you want to weigh your grass seeds into the spreader, using the appropriate spreader settings; typically, you should be spreading about 15 seeds per square inch of soil. While that's the case, keep in mind that spread seed per square inch will ultimately depend on the thickness of your current lawn; some lawns may need more, others not so much.
At any rate, to achieve the best seed spreading results, all your spreading activities should be done at the right time, depending on your climate and grass type. Thus, you should only start an overseeding practice when it's the season for that specific grass. You can use the USDA Plant Hardiness Zone Map and National Turfgrass Evaluation Program to make seeding decisions if you don't have the info already.
Step 5: Spread Your Grass Seed Fertilizer
After spreading the seeds, next, you want to spread the fertilizer as well; different from soil treatment. While fertilizing small yards only requires a handheld spreader, you'll want to get a broadcast spreader if you don't have that already if you've got a big lawn.
The fertilizer is needed to ensure a faster germination rate; you don't want to pass the right seed planting season and still not have your lawn completely overseeded
Step 6: Water Your Lawn 
Finally, for the finishing touch, you want to water down all your spread.
Watering the lawn should be a continuous process each day. Ideally, you want to do it every morning because the soil takes in more water than the other times of the day. In the afternoon or evening, watering typically requires more water to achieve the same result you can get from morning watering.
Also, you shouldn't overwater the turf, or you risk washing away the seeds. Go slow and steady with sprinkles to get the best result.
Overseeding a lawn is a lot easier than seeding from scratch. If you follow a step-by-step guideline as outlined here, you should be confident in expecting an excellent result.