There are many reasons why you will need a good sewing machine. Apart from being easy to use, such a tool should be able to whip up different types of stitches.
Out of the box, the Brother Sewing Machine is a great tool for making stitches. But to get the best results, you will have to make a few adjustments.
Are you looking for the best way to create stitches on this machine? If yes, you can perform this task while using this article as a guide.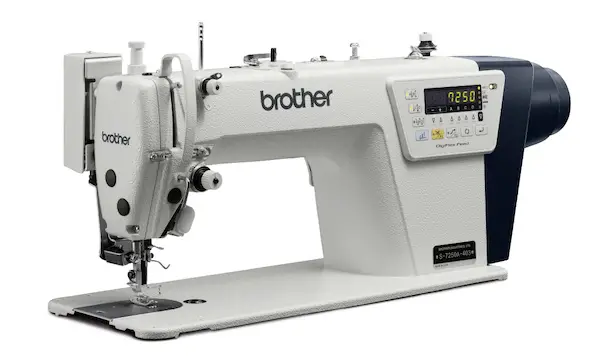 Brother Sewing Machine Stitch Settings Guide
Here are the required settings for performing various stitches with a Brother Sewing machine.
Straight Stitch Left Settings
Stitch Length (mm) : 2.5 ( Auto), 0.2 – 0.5 ( Manual)
Stitch Width (mm) : 0.0 (Auto), 0.0 -7.0 (Manual)
presser Foot: J
Twin Needle: Yes (J)
Walking Foot: No
Reverse/Reinforcement Stitching: Reverse
Straight Stitch Centre Settings
Stitch Length (mm) : 2.5 ( Auto), 0.2 – 0.5 ( Manual)
Stitch Width (mm) : 0.0 (Auto), 0.0 -7.0 (Manual)
presser Foot: J
Twin Needle: Yes (J)
Walking Foot: No
Reverse/Reinforcement Stitching: Reinforcement
Triple Stretch Stitch Settings
Stitch Length (mm) : 2.5 ( Auto), 1.5- 4.0 ( Manual)
Stitch Width (mm) : 0.0 (Auto), 0.0 -7.0 (Manual)
presser Foot: J
Twin Needle: Yes (J)
Walking Foot: No
Reverse/Reinforcement Stitching: Reinforcement
Stretch Stitch Settings
Stitch Length (mm) : 2.5 ( Auto), 1.0- 4.0 ( Manual)
Stitch Width (mm) : 1.0 (Auto), 1.0 -3.0 (Manual)
presser Foot: J
Twin Needle: Yes (J)
Walking Foot: No
Reverse/Reinforcement Stitching: Reinforcement
Basting Stitch Settings
Stitch Length (mm): 20 ( Auto), 5- 30 ( Manual)
Stitch Width (mm): 0.0 (Auto), 0.0 -7.0 (Manual)
presser Foot: J
Twin Needle: No
Walking Foot: No
Reverse/Reinforcement Stitching: Reinforcement
Zigzag Centre Stitch Setting
Stitch Length (mm) : 1.4 (Auto), 0.0 – 4.0
Stitch Centre Width (mm) : 3.5 ( Auto), 0.0- 7.0 ( Manual)
presser Foot : J
Twin Needle : No
Walking Foot : No
Reverse/Reinforcement Stitching : Reverse
2-Point Zigzag Right Stitch Setting
Stitch Length (mm) : 1.0 (Auto), 0.2 – 4.0 ( Manual)
Stitch Width (mm) : 5.0( Auto), 1.5 – 7.0 ( Manual)
presser Foot : J
Twin Needle : Yes
Walking Foot : Yes
Reverse/Reinforcement Stitching : Reinforcement
3 point Zig Zag Stitch Setting
Stitch Length (mm) : 1.0 (Auto), 0.2 – 4.0 ( Manual)
Stitch Width (mm) : 0 ( Auto),  1.5 – 7.0 (Manual)
Presser Foot : J
Twin Needle : Yes
Walking Foot : No
Reverse/Reinforcement Stitching : Reinforcement
Overcasting Stitch Setting
Stitch Length (mm) : 1.0 (Auto), 0.2 – 4.0 ( Manual)
Stitch Width (mm) : 5 ( Auto),  2.5 – 5.0 (Manual)
Presser Foot : G
Twin Needle: No
Walking Foot : No
Reverse/Reinforcement Stitching : Reinforcement
Blind Hem Stitch Setting
Stitch Length (mm) : 2.0 (Auto), 1.0 – 3.5 ( Manual)
Stitch Width (mm) : 0.0 (Auto), 3← – →3 ( Manual)
Presser Foot : R
Twin Needle : No
Walking Foot : No
Reverse/Reinforcement Stitching : Reinforcement
Appliqué Stitch Setting
Stitch Length (mm) : 2.5 (Auto), 1.0 – 3.5 ( Manual)
Stitch Width (mm) : 0.0 (Auto), 3← – →3 ( Manual)
Presser Foot : J
Trim Needle : Yes
Walking Foot : No
Reverse/Reinforcement Stitching : Reinforcement
Shell Tuck Stitch Setting
Stitch Length (mm) : 2.5 (Auto), 0.2 – 4.0 ( Manual)
Stitch Width (mm) : 4.0 ( Auto), 0.0 – 7.0 (Manual)
Presser Foot : J
Trim Needle : Yes
Walking Foot : No
Reverse/Reinforcement Stitching : Reinforcement
Straight Stitch like Hand Sewn Setting
Stitch Length (mm) : 5 ( Auto) , 1.0 – 4.0 (Manual)
Stitch Width (mm) : 0.0 ( Auto), 0.0 – 7.0 (Manual)
Presser Foot : J
Trim Needle : No
Walking Foot : No
Reverse/Reinforcement Stitching : Reinforcement
Zigzag Stitch for Quilting Settings
Stitch Length (mm) : 4 ( Auto) , 0.0 – 4.0 (Manual)
Stitch Width (mm) : 5 ( Auto) , 0.0 – 7.0 (Manual)
Presser Foot : J
Trim Needle : No
Walking Foot : Yes
Reverse/Reinforcement Stitching : Reinforcement
Appliqué Stitch for Quilting Setting
Stitch Length (mm) : 8 ( Auto) , 1.0 – 4.0 (Manual)
Stitch Width (mm) : 5 ( Auto) , 0.5 – 3.5 (Manual)
Presser Foot : J
Trim Needle : No
Walking Foot : No
Reverse/Reinforcement Stitching : Reinforcement
Quilting Stitch for Slipping Setting
Stitch Length (mm) : 6 ( Auto) , 1.0 – 4.0 (Manual)
Stitch Width (mm) : 0 ( Auto) , 1.0 – 7.0 (Manual)
Presser Foot : J
Twin Needle : No
Walking Foot : No
Reverse/Reinforcement Stitching : Reinforcement
Satin Scallop Stitch Setting
Stitch Length (mm) : 5 ( Auto) , 0.1 – 1.0 (Manual)
Stitch Width (mm) : 0 ( Auto), 2.5 – 7.0 ( Manual)
Presser Foot : N
Twin Needle : No
Walking Foot : No
Reverse/Reinforcement Stitching : Reinforcement
Smoking Stitch Setting
Stitch Length (mm) : 6 ( Auto) , 1.6 – 4. 0 (Manual)
Stitch Width (mm) : 0 ( Auto) , 0.0 – 7.0 (Manual)
Presser Foot : J
Twin Needle : Yes
Walking Foot : No
Reverse/Reinforcement Stitching : Reinforcement
Elastic Attaching Stitch Setting
Stitch Length (mm) : 1. 0 ( Auto) , 2.0 – 4. 0 (Manual)
Stitch Width (mm) : 4.0 ( Auto), 0.0 – 7.0 ( Manual)
Presser Foot : J
Twin Needle : Yes
Walking Foot : No
Reverse/Reinforcement Stitching : Reinforcement
Ladder Stitch Setting
Stitch Length (mm) : 3.0 ( Auto) , 2.0 – 4. 0 (Manual)
Stitch Width (mm) : 4. 0 ( Auto) , 0.0 – 7. 0 (Manual)
Presser Foot : J
Twin Needle : No
Walking Foot : No
Reverse/Reinforcement Stitching : Reinforcement
Rick Rack Stitch Setting
Stitch Length (mm) : 2.5 ( Auto) , 1.0 – 4. 0 (Manual)
Stitch Width (mm) : 4.0 ( Auto), 0.0 – 7.0 (Manual)
Presser Foot : J
Trim Needle : No
Walking Foot : No
Reverse/Reinforcement Stitching : Reinforcement
Decorative Stitch Setting
Stitch Length (mm) : 1.6 ( Auto), 1.0 – 40 ( Manual)
Stitch Width ( mm) 5.5 ( Auto), 0.0 – 70 ( Manual)
Presser Foot : J
Trim Needle : Yes
Walking Foot : No
Reverse/Reinforcement Stitching : Reinforcement
Serpentine Stitch Setting
Stitch Length (mm) : 1.0 ( Auto), 2.0 – 4.0 ( Manual)
Stitch Width ( mm) : 5.5 ( Auto), 0.0 -7.0 ( Manual)
Presser Foot : J
Trim Needle: Yes
Walking Foot : No
Reverse/Reinforcement Stitching : Reinforcement