Chapin is a renowned agronomic brand focused on covering more ground as a manufacturer of versatile home and garden equipment. They have sprayers with a wide range of applications in and around your home.
Chapin spreaders are also designed for all-around maintenance, which includes garden nurturing, snow and ice control, and lawn feeding. Their spreader models include hand-held, turf, salt, and specialty spreaders.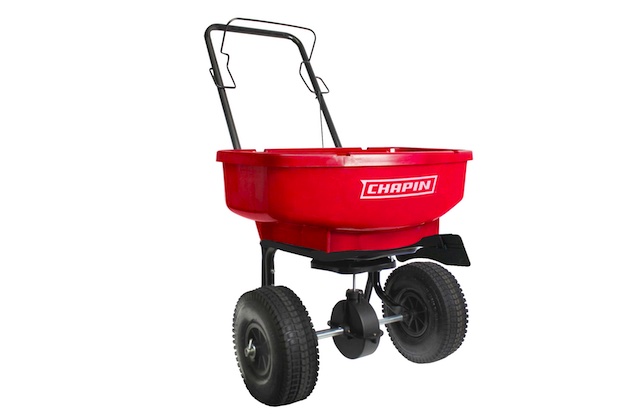 Chapin Spreader Settings Chart
Your spreader needs to be properly calibrated to disperse the right amount of granular fertilizers and pesticides to your lawn. Your product may be wrongly applied if the calibration is not done properly. Too little or too much of the product will reach your lawn, which can lead to low yield and harm the environment. 
| | |
| --- | --- |
| Spreading Aim | Chapin Spreader Settings |
| Herbicides | 5-6 |
| Granular Fertilizers | 6-8 |
| Grass Seed (Over-seeding) | 8-10 |
| Grass Seed (New Lawn) | 10-13 |
| Salt/Ice Melt  | 14-15 |
The values in the application chart above should be considered as starting points only and should serve as a guide to properly calibrate your spreader. There are no strict regulations as the spread rate of your spreader could change based on a couple of factors such as weather conditions, spreader level of maintenance, etc. 
General Operating Instructions
The guidelines provided below would be helpful when operating your Chapin spreader to achieve the best results: 
Ensure that the gate control is closed. Do not hold the bail down when filling your hopper with the material. Make necessary adjustments following the instructions on the spreader manual if the gate is not fully closed. 

Determine the correct settings for the material being used by reading the suggested settings on the product package. Our application chart above could also serve as a guide. 

To begin spreading operations, start walking at a brisk pace of about 3mph, then pull the bail system down to open the gate. 

After covering the area to be treated, let go of the bail. The gate would close and stop spreading the product. 
Chapin Spreader Storage and Maintenance Tips
If you maintain your spreader, it would, in turn take care of your lawn. Contrarily, if you fail to do so, you will damage your spreader and most likely wouldn't get good results irrespective of the product you apply to your lawn. Here are a few tips that would help you properly maintain your Chapin spreader and increase its durability: 
When you conclude spreading operations, empty the hopper of any residual material. 

Use your garden hose to thoroughly wash down the spreader after every use. 

Be careful not to spray water directly onto the gearbox. 

It is recommended not to use a powder washer on your Chapin spreader. 

Allow your spreader to dry properly before storing. 

Lubricate all moving parts and grease oil fittings regularly. 
If you frequently store your spreader with the handle down, optional thumb screws are available for faster disassembling. To fold down the handle, simply follow the steps below: 
Remove the 2 bottom bolts on the handle. 

Loosen the 2 M6 Hex nuts and fold down the handle. 

Replace the 2 bottom bolts. 

Tighten the M6 Hex nuts completely. 
Chapin 80lb All-Season Broadcast Spreader
The Chapin 80lb All-Season Residential Turf broadcast spreader prides in its rugged powder-coated steel frame, U-shaped handle, ambidextrous bail system, side baffle, adjustable gate lever, and an enclosed gearbox to withstand environmental elements. This model consists of several features that distinguish them from the rest, and they include 
80-pound capacity hopper

Enclosed gear system

Ergonomically-designed bail system

U-shaped tube handlebars

Large 12" pneumatic wheels for stability over rough terrains

360° baffle system for directional control of spread pattern

Rugged powder-coated steel frame

Intuitive gate design with adjustable lever for precise control

Design compatible with granular fertilizer/pesticides/herbicides, seeds, salt/ice melt. 

Chapin Sure-Spread technology
How To Put Down Ice Melt
No matter how little the amount of solid ice, it can be hazardous on the driveways and sidewalks around your home. As such, melting it with ice melt is an essential winter routine for households who dwell in cold, stormy regions. 
Ice melt is a chemical product that is applied on surfaces to break down the bonds formed by ice. Ice melt opens up ice and snow by creating cracks in them which makes it safer to navigate through, and easier to remove. 
You can follow these guidelines when using ice melt for safe and effective removal of all that slippery stuff: 
Never Mistake Ice Melt for Rock Salt
Although both ice melt and rock salt are two different products, they can be used to melt ice. Rock salt is a mineral form of sodium chloride, while ice melt is made from a blend of chemicals with sodium chloride as the active ingredient. Ice melt is formulated to be quick-action and long-lasting, and works best in colder temperatures. 
Consider the Various Options Available
There are different kinds of ice melt products that are designed for different conditions. While some come as a liquid, others may come pelletized or in granules. Some are also made for specific surfaces and temperatures, and some can be safely used around children and pets. Ensure that the product you are applying meets your unique needs. 
Ice can cover several surfaces ranging from sidewalks to driveways, decks, and porches. These various surfaces are made of different materials which include concrete, asphalt, metal, and wood. Before application, be sure to read and follow the package instructions. Only use a product suitable for the surface to avoid causing damage. 
Excessive amounts of ice melt can damage surfaces (both outdoor and indoor, when tracked in), and harm the environment as well through run-offs and drainages. Ensure you apply the suggested amount on the product packaging. Typically, 2-4 ounces of the product should be used per square yard. 
Don't Wait Until Ice Forms Before Purchase
Ice melt works best when applied to surfaces before the ice forms. This helps to prevent the ice from bonding and creates cracks which simplify its removal. It is therefore a smart move to have enough supply of ice melt handy before a storm happens.