According to some consumers, the Miller brand of welders serves as the right tool for the perfect weld. But without knowing the settings of these devices, you might not get your expected results.
Now, are there special settings for tuning a Miller MIG? Well, there are special Miller MiG settings for various tasks including MIG welding. If you do not know these settings, then you will have to use a guide to get things done.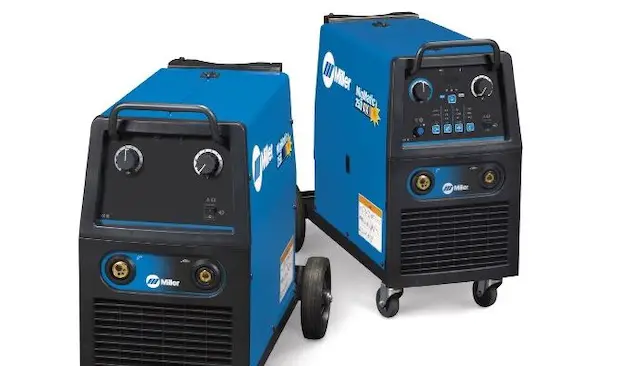 In this article, we have listed some of the ideal settings for working with a MIG weld. So if you want to use your Miller welder for this purpose, you can scan through our post and choose your preferred setting.
Miller MIG Welding Settings Charts
Here is a chart showing the wire speed and voltage speed settings that suit Lincoln MIG welders. But before using these values, we suggest that you have a decent understanding of your preferred metal. Also, consider the amperage settings and the task at hand.
Miller MIG Welding Settings Chart for Solid Wire Welding ( Aluminium)
| | | | | | |
| --- | --- | --- | --- | --- | --- |
| Material Thickness | Wire Size (mm) | Volt Setting | Amperage Range | Wire Speed | Shielding  Gas |
| 3.2mm | 0.035 | 21-22 | 110-130 | 350 – 400 | Argon |
| 4.8mm | 0.035 | 23- 24 | 140-150 | 425 – 450 | Argon |
| 6 4mm | 1.2 | 24 – 25 | 180-210 | 350-375 | Argon |
| 7.9mm | 1.2 | 26-27 | 200 – 230 | 400 – 425 | Argon |
| 9.5mm | 1.2 | 26-28 | 450-480 | 450 – 480 | Argon |
| 11.1mm | 1.6 | 28~29 | 280 | 240 – 270 | Argon |
| 12.7mm | 1.6 | 29-30 | 290-200 | 290 – 300 | Argon |
| | | | | | |
Miller MIG Welding Settings Chart for Solid Wire Welding (Stainless Steel)
Shielding Gas
| | | | | | |
| --- | --- | --- | --- | --- | --- |
| Material Thickness | Wire Size (mm) | Volt Setting | Amperage Range | Wire Speed | Shielding Gas |
| 1.2mm | 0.035 | 21-22 | 50-60 | 120 – 150 | Helium+Argon+CO2 |
| 1.6mm | 0.035 | 19 – 20 | 70-80 | 180-205 | Helium+Argon+CO2 |
| 2.0mm | 0.035 | 20 – 21 | 90 – 110 | 230 – 275 | Helium+Argon+CO |
| 7.9mm | 0.035 |  21-22 | 180 – 190 | 250-300 | Helium+Argon+CO2 |
| 9.5mm | 1.6 | 25-26 | 250-275 | 140 – 170 | 98% Argon/2% O2 |
| 11.1mm | 1.6 | 26-27 | 275-300 | 170 – 200 | 98% Argon/2% O2 |
| 12.7mm | 1.6 | 27-32 | 300-325 | 200 – 230 | 98% Argon/2% O2 |
Miller MIG Welding Settings Chart for Solid Wire Welding (Steel)
Material Thickness
Wire Size (mm)
Volt Setting
Amperage Range
Wire

Speed

Shielding Gas
0.8mm
0.8
15-16
40-55

90-100
75% Argon/25% CO2
0.9mm
0.8
15-16
50-60
120 – 135
75% Argon/25% CO2
1.2mm
0.8
18-19
70-80
150 – 175
CO2
1.6mm
0.8
 19-20
90-110
220 – 250
CO2
2.0mm
0.8
20-21
120-130
250 – 340
CO2
3.2mm
0.9
21-22
140-150
280 – 300
CO2
4.8mm
0.9
21-22
160 – 170
320 – 340
CO2
Miller MIG Welding Settings Chart for Flux-Cored Welding (Steel) (Gas Shielded Flux)
| | | | | | |
| --- | --- | --- | --- | --- | --- |
| Material Thickness | Wire Size (mm) | Volt Setting | Wire Speed | Amperage Range | Shielding Gas |
| 2.4mm | 0.9 | 18-20 | 175 – 185 | 110 – 125 | CO2 |
| 3.2 mm | 0.045 | 20-22 | 210 – 230 | 140 – 155 | CO2 |
| 4.8mm | 1.1 | 21-23 | 235 – 255 | 155-170 | CO2 |
| 9.5mm | 1.6 | 29-30 | 350 – 400 | 330 – 375 | CO2 |
| 12.7mm | 2.4 | 30-31 | 180 – 210 | 430 – 470 | CO2 |
| 15.9mm | 2.4 | 31-32 | 230 – 250 | 490 – 525 | CO2 |
Miller MIG Welding Settings Chart for Flux-Cored Welding (Steel) (Self Shielded Flux)
| | | | | |
| --- | --- | --- | --- | --- |
| Material Thickness | Wire Size (mm) | Volt Setting | Amperage Range | Wire Speed |
| 2.4mm | 0.9 | 14-15 | 110 – 125 | 145- 155 |
| 3.2 mm | 0.045 | 20-22 | 140 – 155 | 210 – 230 |
| 4.8mm | 1.1 | 21-23 | 155-170 | 235 – 255 |
| 9.5mm | 1.1 | 29-30 | 330 – 375 | 165 – 175 |
| 12.7mm | 2.4 | 30-31 | 430 – 470 | 180 -210 |
Miller MIG Welding Settings  for Solid Wire Welding (Aluminum)
2mm material thickness: 21-22 volts, 350 – 400 (Wire Speed)
8mm material thickness: 23 – 24 volts, 425-450 ( Wire Speed)
4mm material thickness: 24 – 25 volts, 350 – 375 Wire speed
9mm material thickness: 26 – 27 volts, 425 Wire speed
5 mm material thickness: 26 – 28 volts, 460 – 480 Wire Speed
1 mm material thickness: 28~29 volts, 240 – 270 Wire Speed
7 mm material thickness: 29-30 volts, 290-300 Wire Speed
Miller MIG Welding Settings Chart for Solid Wire Welding (Stainless Steel)
2mm material thickness: 21 – 22 volt, 350 – 400 wire speed
6mm material thickness: 19 – 20 volt, 180 – 205 wire speed
0mm material thickness: 20 – 21 volt, 250 – 340 wire speed
9mm material thickness: 26 – 27 volt,
5mm material thickness: 21-22 volt, 140 – 170 wire speed
1mm material thickness: 28-29 volt, 250 – 300 wire speed
7mm material thickness: 27 – 32 volt, 200 – 230 wire speed
Miller MIG Welding Settings Chart for Solid Wire Welding (Steel)
8 mm material thickness: 15 – 16 volt, 90 – 100 wire speed
9 mm material thickness: 15 – 16 volt, 120 – 135 wire speed
2 mm material thickness: 18 – 19 volt, 150 – 175 wire speed
6 mm material thickness: 19 – 20 volt, 220 – 250 wire speed
0 mm material thickness: 20 – 21 volt, 250 – 340 wire speed
2mm material thickness: 21 – 22 volt, 280 – 300 wire speed
8mm material thickness: 21 – 22 volt, 320 – 340 wire speed
Miller MIG Welding Settings Chart for Flux-Cored Welding (Steel) (Gas Shielded Flux)
4mm material thickness: 18 – 20 volt, 175 – 185 wire speed
2mm material thickness: 20 – 22 volt, 210 – 220 wire speed
8mm material thickness: 21-23 volt, 235 – 255 wire speed
5mm material thickness: 29 – 30 volt, 350 – 400 wire speed
7mm material thickness: 30 – 31 volt, 430 – 470 wire speed
9mm material thickness: 31-32 volt; 230 – 250 wire speed
Miller MIG Welding Settings Chart for Flux-Cored Welding (Steel) (Self Shielded Flux)
2.4mm material thickness: 14-15 volts, 145 – 155 wire speed
3.2mm material thickness: 20 – 22 volts, 210 – 230 wire speed
4.8 mm material thickness: 21 – 23 volts, 155 – 170 wire speed
9.5mm material thickness: 29 – 30 volts, 165 – 175 wire speed
12.7mm material thickness: 30 – 31 volts, 180 – 210 wire speed