Lawns that are well-maintained with a vibrant green shade that arouses delightful feelings are naturally soothing to look at. You walk by a neatly trimmed park, and all you can think of is lying on the turf and relaxing in the lush green environment. 
Little do people know that such gardens cannot have that elegant look without the help of a vital agricultural tool; the spreader. All lawn care routines involve planting seeds and applying fertilizers and herbicides, and the only way to efficiently and uniformly apply these materials is by using a spreader. 
Spreaders are lawn equipment that is used to carry out the application of granular fertilizers, herbicides, and seeds. Manual application of these spreading materials can be stressful and time-consuming. This is why any homeowner who is dedicated to keeping their lawn healthy and lush needs to own a quality spreader. 
It is an invaluable tool that you will use all through the season, whether you are applying a pre or post-emergent herbicide, growth fertilizers, or simply seeding.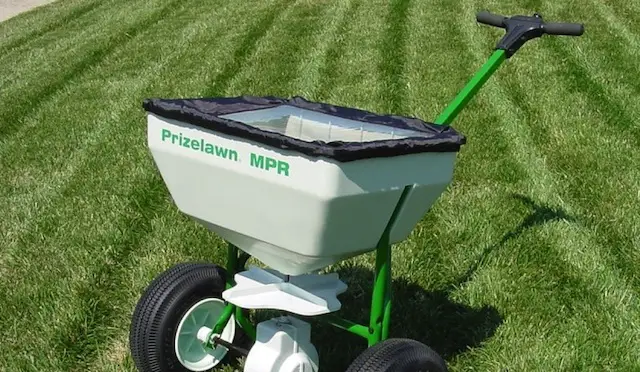 Prizelawn Spreader Settings
Prizelawn Spreader, a feature of Earthway Products Incorporated, is a family-owned business located in Bristol, Indiana. The brand offers a wide range of quality lawn spreaders, available in both drop and broadcast spreader models. 
The chart below provides approximate settings for calibrating your Prizelawn spreader. This chart can only be utilized when the product weight, coverage per square foot, and visual inspection of the material is available. 
Particle Size
Rate (lb/1000 sq. ft.)
Approximate Settings
Spread Width (m)

Large, heavy particles

5

10

15

M

O

Q

8

8

8

Medium, mixed particles 

5

10

15

L

N

O

8

8

8

Small particles 

1

2

3

G

J

L

8

8

8

Mixed sized particles – some fines

5

10

15

M

O

P

6

6

6

Lightweight particles

5

10

15

J

L

O

4

To

6
Operating Your Prizelawn Spreader: A Step-by-Step Guide
Here are the steps you can follow when operating your Prizelawn spreader, to achieve the best results: 
Step 1: Check your product package for the recommended rate setting and swath width. Adjust the rate control knob and slide plate to the appropriate setting. 
Step 2: Fill in the hopper on your driveway or sidewalk, and not on the lawn to be treated. Make sure the screen is on the hopper, and the spreader is on the OFF mode. 
Step 3: Start moving the spreader before opening the ports, and close the ports before stopping the spreader. Always push your spreader across your lawn, never pull. 
Step 4: Always hold the handle, so the top of the spreader is leveled. Tipping the spreader too far can cause uneven spreading across your lawn. 
Step 5: Push the spreader at a normal walking speed, say 2 ½ mph (18ft/5 seconds). Apply header strips around the area to be treated and space strips across. 
Step 6: After completing spreading operations, ensure the spreader is on OFF mode when transporting it away from your lawn. 
Step 7: Empty the hopper after use, and return the leftover material to its original container. 
Tips For Maintaining Your Prizelawn Spreader
To keep your spreader in optimum working condition and enable it to last longer, you should employ these useful maintenance useful tips: 
Never store unused material in your hopper. Always return the residual product to its original container. 

Wash your spreader thoroughly after each use, and leave it to dry in the sun or a heated area. Once dry, return back in for storage. 

Grease axle bearings in frame regularly. Oil the impeller shaft bearing in the hopper, pivot points in the shut-off plate, and spring behind the rating plate regularly as well. 

Remove gear cover and clean thoroughly. Apply grease at the fitting and gear teeth, and reinstall the gear cover after cleaning. 

Gear mesh should be checked regularly, particularly in periods of high use. Clearance between the axle gear and pinion gear should be minimal, but not tight. Loosen if an adjustment is necessary. The gear should run smoothly and freely. 

The impeller surface should be cleaned regularly to remove the build-up of product remnants, as build-up can cause the spread pattern to change. 

Tire pressure should be maintained between 15-20psi. 
Factors to Consider When Choosing a Spreader
As earlier stated, Prizelawn spreaders are available in both broadcast and drop models. The broadcast and drop spreader models have similar features but differ in their application mode. The functionalities of these different types of spreaders are also better suited for certain conditions. 
Here are some factors you should consider before deciding which of the two spreader types would be a better pick for your lawn: 
1. The shape of the lawn
The drop and broadcast spreaders work effectively on varying lawn topographies, and this has made the shape of your lawn a crucial factor in determining which would be better. 
The drop spreader works best on lawns with easy-to-reach areas, as it cannot spread where on places it cannot roll on. On the other hand, broadcast spreaders can be used to distribute material over difficult topographies due to their application mode of fanning out material. 
2. Wind Condition
The wind condition in your region will also play a role in determining the type of spreader you can use. Some areas are generally known to be windier than others. If you have strong winds in your region, it is advisable to use a drop spreader as it is not affected by wind. 
Taking advantage of the gravity factor, drop spreaders release materials directly over where they roll. This gives you greater control over the coverage. Broadcast spreaders on the flip side, are readily affected by winds and you are more likely to have the material distributed where don't want them. 
3. Time Available
If you do not have much time on your hands and accuracy is not as important, you can use a broadcast spreader as it will save you time. A drop spreader usually takes a longer time to complete spreading operations, as it is focused on accuracy. 
4. Spreading Pattern
What type of spreading pattern do you wish to have across your lawn? If you are looking for a uniform spread over a small area, and would not mind putting in a little more time, the drop spreader is ideal for you. 
However, if you have a larger lawn and just need to distribute materials quickly over a wide area, it's best you utilize a broadcast spreader.