Profitability in farming operations largely depends on multiple input and running costs. The cost of fertilizers plays a crucial role in determining the level of profitability, and cost savings can be greatly increased by optimizing the methods through which these fertilizers are applied. KUHN, a forerunner in precision fertilization, offers innovative solutions for reasonably controlling fertilizer application. 
KUHN's wide range of fertilizer spreaders can be adapted to suit various spreading operations, including spreading across open fields, along field edges or marginal zones, late fertilization (for developed crops), and application to special crops in vineyards, orchards, and vegetable gardens. 
Their fertilizer spreaders are durable with high spreading power and can improve farm profitability by distributing the right dose of fertilizer to the right place. Without a doubt, KUHN spreaders are sure to leave you satisfied with their accurate fertilizer dosing and even distribution rate.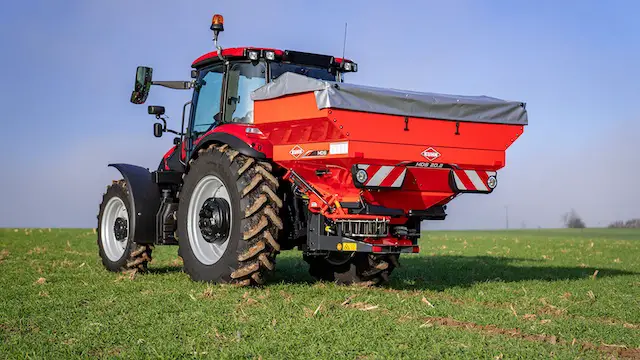 KUHN Fertilizer Spreader Settings
All KUHN fertilizer spreaders offer second-to-none precision and are easy to operate. Their MDS models have hopper capacities ranging from 500-1000L, with working widths of 10-24m. These models also incorporate localized spreading systems, capable of applying on over two strips and seven rows. 
AXIS models (which we will be highlighting in this article) offer large hopper capacities of 1000-4000L, with working widths of 12-50m. KUHN's UKS models likewise incorporate strip and localized spreading and distribute various products ranging from mineral and organic fertilizers to gravel, salt, and lime. 
The spreader settings provided below are to provide guidance only. The application of your choice fertilizer can be affected by the condition of your spreader and environmental conditions at the time of application. Therefore, the exact fertilizer rates and spreading patterns cannot be guaranteed. 
To ensure greater accuracy, the spreader should be recalibrated from time to time. 
| | | | | | | | |
| --- | --- | --- | --- | --- | --- | --- | --- |
| Spreader Model | Spread Width (m) | Vane Type | Spreader Height | PTO Speed (rpm) | Drop-on Point | Application Rate (kg/Ha) | Forward Speed (km/hr) |
| KUHN Axis 30.1 | 24 | S4 | 50 | 540 | 6.5 | 200 | 12 |
| KUHN Axis 30.1 | 36 | S8 | 50 | 540 | 9.5 | 200 | 12 |
| KUHN Axis 30.1 | 24 | S4 | 50 | 540 | 6 | 250 | 10 |
| KUHN Axis 30.1 | 36 | S8 | 50 | 540 | 8 | 250 | 10 |
| KUHN Axis 30.1 | 24 | S4 | 50 | 540 | 6 | 250 | 10 |
| KUHN Axis 30.1  | 36 | S8 | 50 | 540 | 8.5 | 250 | 10 |
KUHN Spreader Settings: Calibrating Your Spreader
After finding out the appropriate settings for your spreader, calibration comes next. Calibration determines your spreader's yield when distributing materials in a particular setting. If you use your spreader frequently, calibrate it a few times a year. You can calibrate your spreader in these seven easy steps:
Step #1: Choose an average calibration level by predicting one which would yield the best results. 
Step #2: Check your spreader's effective width per swath. 
Step #3: Select and measure out a test area upon which the material would be spread. 
Step #4: Pour a known amount of material into the hopper, and install a catch pan to calculate the spread amount. 
Step #5: Maintain a consistent walking pace from start to finish. 
Step #6: Weigh the amount of material remaining in the hopper or catch pan after distribution to determine the quantity used. 
Step #7: Adjust the initial calibration settings and try again until you achieve your desired results. 
How To Maintain Your KUHN Fertilizer Spreader
Having highlighted the various benefits that KUHN's fertilizer spreaders offer, it's important to note that you may not enjoy these benefits long-term if you do not maintain your spreader properly. Fertilizer spreaders are precision tools and should be treated as such. 
It is part of your responsibility as an owner to maintain your spreader. Failure to do so may damage its parts, which would leave you with no option but to purchase new parts earlier than you should have. 
Fertilizer spreaders do not require much time-consuming maintenance, and the simple points we have compiled below would help improve your spreader's precision and, in turn, preserve its lifespan. 
After every use, you should empty your spreader and brush out any bits of fertilizer that may be left in the hopper. After which, you are to rinse your spreader thoroughly. It doesn't matter whether or not you plan to use the spreader soon; wash it after each use. 
Cold water from a garden hose should be adequate for washing your spreader after applying granular products. If any persistent remnant of material on the spreader doesn't come off readily with the jet of cold water, you can try using warm water and a sponge or cloth to wipe it off. 
After washing your fertilizer spreader, do not just carry it off for storage. You should dry it immediately after. Drying your fertilizer spreader is easy as you only need to place it in the sun for about an hour. 
You may also need to invert the spreader while drying to ensure that all the water drains from the corners. Avoid leaving your spreader too long in the sun to prevent its parts from rusting. Once it is dry, you should take it indoors for storage. 
Unlike washing and drying, lubricating your spreader shouldn't be done all the time. However, it must be done occasionally to prevent your spreader's parts from getting stuck, especially if you use it frequently. 
When lubricating, it's important always to follow the manufacturer's specific instructions. What will work for one type of spreader might be harmful to another. Be sure to oil all moving parts like the chains, sprockets, and grease fittings. 
Always store your spreader away from moisture and direct sunlight. Never store any item on top of your spreader as well. Be sure to store your spreader with the ports fully open (that is, on its highest settings), as this would relax the strain on its mechanism. 
If you take care of your spreader, it will reciprocate the favor on your lawn. Do well to protect your investment in a spreader.