The LG27UK650 is a 27- inch monitor. Apart from supporting Freesync, it boasts HDR10, IPS technology, and Black Stabilizer. On top of that, you can get several gaming modes with Dynamic Action Sync.
Before you can get the best graphics on the 27UK650, try playing around with the settings. If handled correctly, you can end up with realistic-looking content. Surprisingly, these adjustments do not require much work or consume your time.
Do you want to tune up the visuals on your LG TV? Here are some calibration settings that can improve your experience.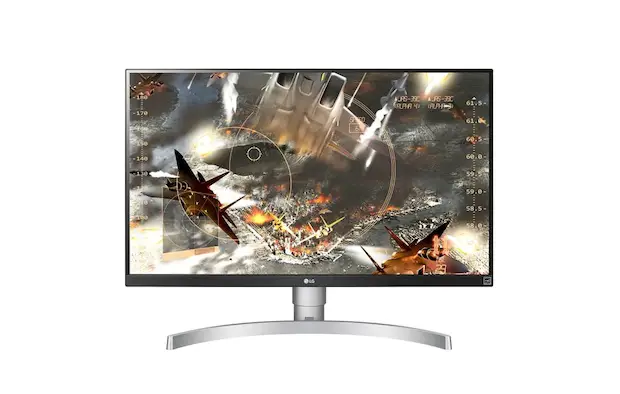 LG 27UK650 Calibration Settings
Below are some adjustments that you can perform to the LG 27UK650 gaming monitor. You can use them for several types of content or tasks.
Best Calibration Settings for the LG 27UK650
If you are looking for the best graphics on your LG gaming monitor, try the following settings.
Set the Picture Mode to Custom
Adjust the Brightness 100 nits to 18, Brightness 120 nits to 24, and Brightness 200 nits to 50.
Set Brightness 50 nits to 3 and Brightness 80 nits to 12
Set Gamma to 3
Use the following figures to set the Color Temperature Custom: Red (60), Green (51), and Blue (40)
Adjust Contrast to 67
You can also use the following settings to adjust your LG 27UK650 monitor
Set the Picture Mode to Custom
Adjust the Luminance to 102 cd/m²
Leave the Luminance settings at 17 cd/m²
Tune the Contrast settings to 71
Use the following settings for the RGB controls: Red (46), Green (50), Blue (48)
Leave Gamma Setting on Mode 4
Leave Color Temperature on 6435k
Adjust White Balance dE to 0.71
Tune Color dE to 68
Adjust Gamma to 2.18
Best LG 27UK650 Calibration Settings for PS4
You can pair the LG 27UK650 with the PS4. Since it has ideal features for gaming, you should enjoy playing the PS4 on this device. Test the following settings especially if you want to enhance your graphics.
Tune the Brightness to 85
Set Sharpness to 70
Leave Contrast at 70
Adjust Sharpness to 70
Enable Deep Colour
Leave the Black Level on Low
Adjust Gamma Mode to 2
Set Response Time to Normal
Best LG 27UK650 Settings for Xbox One
The LG 27UK650 is another ideal tool for playing Xbox media. Even if it offers impressive features, you can also enhance its performance via several settings.
Now here are the best settings that you can use for both devices. Remember to only use these settings for non-HDR material.
On the Xbox One,
Set the Color Depth to 10-bit.
Set the Color Space to Standard
Turn on "Allow YCC 4:2:2"
Set HDMI to Auto-Detect
On the LG 27UK650 monitor,
Set HDR Effect
for Picture Mode
Adjust Brightness to 85
Leave Black Level on Low
Enable Deep Color
Set FreeSync to On Extended
Leave Response Time on Fast
Best LG 27UK650 Settings for PC
Apart from gaming, you can use the LG 27UK65p for documents, graphic design, and other tasks. Since you want the best visuals, it is also possible to adjust the screen for these activities. Here are some tips for working with the LG27UK650.
Remember to download the Onscreen Control App from the LG website. With this software, you can adjust your monitor settings without bothering about the OSD menu.
Avoid using an HDMI cable to connect the monitor with your PC. Instead, go for a DPI cable as it promises better performance.
Prepare to get a pair of headphones or external speakers. After all, the LG monitor does not support any speakers. There's no need to go for something expensive, any affordable headphones or speakers from a good brand should do.
Wrapping Up
As a gamer or regular user, you will love the features offered by the LG27UK650. For this reason, you should check out the specs of this device.
On top of that, play around with any of the suggested settings. Even if they don't meet your standards, make some minor adjustments that offer clean displays.